Probably the easiest, cheapest, and fastest way to free up your hips is to do sit-down get-ups.
Here's how it works:
Find a comfortable place to workout, about three feet by three feet. Carpet is good; you can use a yoga mat, or a patch of lush grass, whatever you prefer.
Then, without using your hands, sit down. Now, without using your hands, get up. Repeat, but this time, find a different way to sit down (be creative! try to find all the ways you can bring your body to the floor) and a different way to get up.
Do about 10 repetitions of this (down and up = 1 rep), rest for a few minutes, and repeat. 3 sets is a good starting place. After two or three weeks, you can begin to do this while holding weight – start where you're comfortable and work up.
This is great because it
1) opens up the hip joints and lumbar spine through movement (much more effective than static stretching
2) it strengthens your muscles while limbering you up at the same time
3) it creates new neuro-pathways with repetition, so it will actually change the way you move over the long term if you keep it up
4) it's GREAT for preserving mobility as you age.
If you start this exercise now, then you'll NEVER fear falling down and not being able to get back up.
Another great thing to do before any activity is to stand with one hand on a wall or other surface to balance you. Keep your body upright and lift your outside leg off the floor laterally (out to your side). Keeping your toes flexed toward the sky, make 5 circles clockwise and 5 circles counter-clockwise. Do the same thing in front of your body and behind your body, remembering to keep your toes flexed and body upright. The circles do not have to be big – you are toning your nervous system, which, after all, is what determines your range of motion.
Go Deeper
Want me to personally lead you through exercises to improve your hip mobility, get your shoulders back where they belong, free up your neck and generally feel like you're ten years younger?
Get the complete Posture Rehab System today!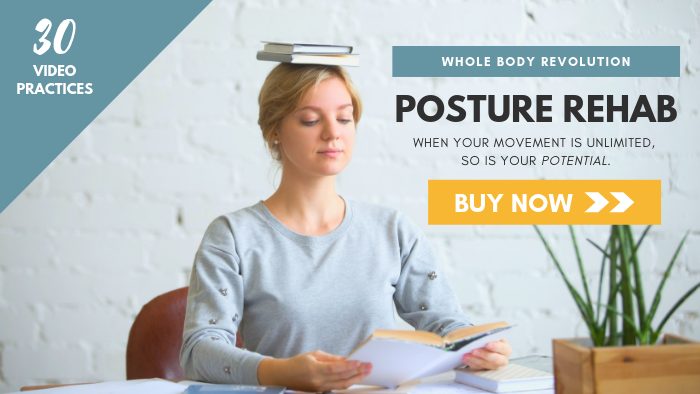 Every video in my Posture Rehab video course is led by me with complete, step-by-step instruction. You won't find these practices anywhere else (i.e. this isn't your typical physical therapy experience…not by a long shot). Each one is designed to reset your nervous system, increase flexibility and mobilize your joints.
Click here to get the course details and enroll >>
0