A "Shoulder Clunk" makes simple exercises annoying and painful.
Does your shoulder make a clunking noise when you move your arm in a circle, try to do pull ups or even just roll your shoulders back and around?
Shoulder clunking is actually really common. In fact, many of my clients have shoulder trouble, although not all of them experience the signature "clunk" that indicates trouble in the upper scapular region.
Whether or not you are experiencing this annoying and uncomfortable issue, this article will help you increase shoulder flexibility and prevent future problems.
What causes shoulder clunking?
The most common cause of a shoulder clunk is lack of space and a scapula (shoulder blade) that doesn't glide properly over the rib cage when the arms are raised. So, the logical next question is, what causes a lack of space for the shoulder blade to move?
First and foremost, using the wrong muscles to move the arms and shoulders will tighten up the neck and upper shoulder, limiting mobility. In the past, manual labor strengthened the larger muscles of the back and lower scapula, supporting the shoulder girdle which has no bony attachment to the body except for the clavicle (collar bone).
Now, we spend multiple hours in front of a computer, in cars, watching television, and utilizing fine motor skills to operate cell phones and other hand held devices. The larger, strength-based muscles of our back and rib cage have become weak, and we rely on the smaller, less efficient muscles of the neck and upper shoulder.
Even athletes and active people have dysfunctional movement patterns, especially if the bulk of their training takes place on passively supportive equipment (i.e. with weight machines). Weight training machines actually further bad habits because they allow you to engage muscles that weren't designed to move a heavy load – basically, to cheat.
Try this: Go to a wall and stand arm's length away. Put your hands flat on the wall with your elbows straight and press just hard enough to feel your shoulder muscles engage. Where do you feel the contraction? Most people feel it in the trapezius, neck, deltoid, and upper shoulder.
This is where the "clunking" problem begins.
The upper shoulder muscles are designed to move your shoulder, to fixate the upper scapula, and act like a suspension bridge from your neck to hold your arms to your body. They're small, and they are not attached to stable structures; if these muscles become hypertonic (too tight) they'll pull your neck and skull out of alignment, creating tension that leads to pain.
Increased tension in your soft tissue also leads to inflammation in the nerves. When nerves are strained, they become enlarged and rigid, some even feeling like copper wires under your skin.
These smaller muscles also attach to the ribs of the upper thorax. When they are tight and short, they pull the ribs out of alignment (ribs are flexible and move with your breath; it's quite easy to dislocate a rib). So, the clunking you are feeling is tendons and ligaments sliding over inflamed nerves and ribs that are slightly dislocated.
How do you fix a clunking shoulder?
To get relief for a clunking shoulder, you have to do two things: First, you have to create space for the scapula to move. Second, you have to retrain your body to support the shoulder using the large, postural muscles of the ribs and back.
I cover specific practices that do both of these things in my Posture Rehab video course. Click below to enroll today.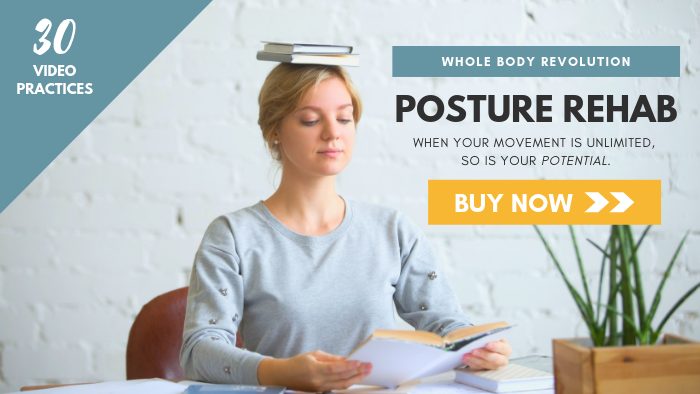 1